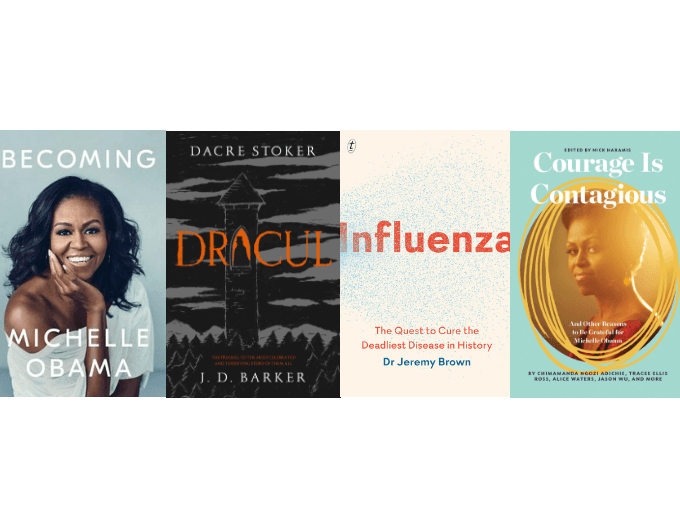 I have nothing but praise for Becoming by Michelle Obama. It is an intelligent, layered, comprehensive and fascinating biography, about which I'll go into more detail in a moment. What I first want to mention is that this was also my first Audible audiobook.
As I've been training for Oxfam and spending long hours out walking, I realised pretty quickly that music alone just wasn't going to sustain me. And even if it did during the training, I was running the risk of being sick of it by the big day. I needed wider entertainment options. Adam is a big audiobook fan, as are many friends, so I decided to give them another go, even if my audiobook track record has not been successful in recent memory. To be honest, I was getting to the point when I thought that maybe they just weren't for me. Well – Becoming convinced me otherwise. (And it was technically free as you get 1 credit when you sign up to Audible!)
Having her voice in my ear as I tramped over gravel paths, waited at traffic lights for the green pedestrian man, encountered kangaroos and birdlife, often alone, kept me company. Her story was new to me, from her early life and father's chronic illness to mentoring to dating and then marrying the man who would become the President of the United States. I listened as her steady voice wavered and cracked as she narrated difficult passages, like the death of a girlfriend to cancer and, later, her own father's. I cried. And I finished feeling inspired.
This is why I'm not too sure how Courage is Contagious, edited by Nick Haramis first came my way. Maybe because I went down the rabbit hole of watching old YouTube clips of the Obamas, missing them so much. Or perhaps it came up on google. But when I saw that my local library had a copy of Courage is Contagious, I reserved it straight away. It's short – too short, wished it was longer – but I loved some parts in particular. Like Chimamanda Ngozi Adichie's chapter and the line from Tracee Ellis Ross, "Part of what Mrs Obama has encouraged in me is the strength within myself to be myself."
Dracul by Dacre Stoker and J. D. Barker was a present Adam bought for me on a training day-gone-bad when we had to abandon a walk in the pouring rain in Sassafras and we waited for the Uber in the local book store. People who know that Dracula is my favourite novel had told me about it – which is so kind for them to remember –  and I'm pleased to report that while it didn't quite live up to my hopes (could it ever?) it is an enjoyable horror tale, taking the reader from Ireland to Whitby, England (one of my favourite places!) and across over to Germany. And the afterword is fascinating.
Influenza by Jeremy Brown was my chance pick from the library shelves find of the month and it's a well-written, no-nonsense, non-jargony look at the influenza virus. Brown specifically looks at the 1918 pandemic and its repercussions that are still felt today. I loved the science-fiction movie-worthy story of how that very virus was extracted from victims buried in permafrost decades later and most of all how big pharma influences research, stockpiling and treatment, mostly by the drug Tamiflu.
That part made me sit up because I remember getting the flu very badly, along with Keira, about six years ago. When we were finally well enough to get to the doctor to get the diagnosis of what I knew we already had, I begged the doctor to prescribe Tamiflu for Riley, in case he got it.
The doctor was very dubious. "You know it may not work and even if it does it only lessens the illness by a day or so."
But it had been in the news, and I insisted.
The doctor finally agreed, wrote and ripped off a prescription.
Once I handed over the fifty (!) dollars to get the medicine, I wondered if my insistence was overdramatic. Especially when Riley didn't get sick after all; neither did Adam.
And six years later, and even though that Tamiflu is very out of date, I can't bring myself to throw it out.
What are you reading this month?