"Writes evocatively" The Age (Melbourne) Magazine
"Karen Andrews' reputation as a writer, editor and publisher precedes her" Books+Publishing
"Andrews' style has an austerity and sophistication that suspends and transfixes you." Kirsten Krauth
Hello! I'm Karen Andrews. This is primarily a personal blog which follows my many interests. I'm very proud of the legacy of this website – read more here – and constantly strive to make it better.
Professional Me
This page features a breakdown of writing highlights and achievements.
For media/journalists: this is my press and media page.
Morsels of Dazzling Biographical Insight
I was born and raised in the small town of Kempsey, New South Wales. I currently live in Melbourne. City life is great, but I miss the country as well.
I was raised a strict Catholic. Now I suppose I'm what they call 'lapsed', but let's not get into semantics. I think I still shock members of my family by what I'm willing to talk about here. I'm pretty open.
I enjoyed university so much I had a Master of Arts (Literature) by the time I was twenty-one. In sum: I am a book nerd.
Life has rounded me out as an individual. I used to have an eating disorder. I have fibromyalgia and anxiety (GAD) and there have been a few more illnesses along the way too boring to mention but are in their own way still relevant.
I spend far too much time on the computer and have done so ever since the 1980s.
I am a writer. I try not to be too pretentious about my writing and I'm certainly not on this blog. If I had a dollar for every time some snark has written to say, "You call yourself a writer? Don't you know how to write a complete sentence? YOU'VE PUT THE APOSTROPHE IN THE WRONG PLACE!" it would be a nice addition to the coffee fund. I am very serious when it comes to my offline work, but this has always been my playground. Fine? Good.
Speaking of my offline work, you can read more about it here.
Hate mail and spam are deleted immediately. Just saying.
Part of my 'Living List' has a philanthropic goal – so if you're interested in seeing how I plan on achieving it, and what I did before implementing this goal, click here.
What Can I Help You With?
Mentoring
I am a mentor for Writers Victoria. A mentoring session is 90 minutes long, and this includes my reading a sample of your work ahead of the meeting. As the website states: "A mentor can help you with all aspects of the craft of writing and provide assistance in setting goals, using time effectively, keeping motivated, retaining focus, building confidence and developing strengths."
Ongoing mentoring hours are then pre-purchased in six-hour blocks if required.
For more information, go to the Writers Victoria website.
Skype Consultations
I am also available for 30 minute Skype consultations (with no prior reading), at which time you may ask any questions you like about blogging, writing or publishing. These questions should be submitted before the Skype conversation.
Please note: these meetings are better for people who need one-off assistance; longer, more comprehensive mentoring opportunities are best pursued through the above mentoring program.
If you'd like to learn more about Skype consultations, please visit the shop.
Blogging and Writing Workshops and Speaking Engagements
I am a certified trainer and have developed several courses aimed at primary, secondary, and adult education levels of literacy and computer knowledge.
If you are interested, email me for course outlines.
Author Talks
I have spoken many times at schools and writing festivals about writing, creativity, and the processes involved in writing and publishing.
Freelance Writing
My pen is yours, so to speak. Here is a brief resume.
Please contact me if you would like to discuss any of the above. Note the standard ASA rates, but talk to me as I often decide on a case-by-case basis.
Editing
I have structural and copy editing experience – please see this page for more details, but I do encourage you to contact me if you have any questions.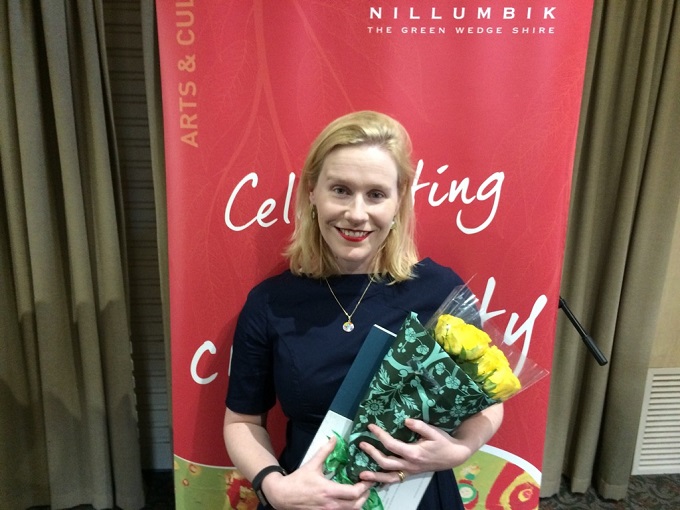 Winner: 2017 Alan Marshall Short Story Award (local division)
Anything else?
Wait! Why did you change your tagline from 'Trying to find the objective correlative, everyday?'
First, a definition of 'objective correlative' from the dictionary:
[It is] something (as a situation or chain of events) that symbolizes or objectifies a particular emotion and that may be used in creative writing to evoke a desired emotional response in the reader.
At its essence, I feel the phrase means the ability to make meaning by observing of life and making sense within your own personal context. I believe it will always inform the way I think but, honestly, I don't think the tagline did enough to easily communicate what this blog is about.
Wait! Why did you change your blog name from 'Miscellaneous Mum?'
Like above, I didn't feel that communicated enough about me – as 'Karen'. It's a personal choice, and some bloggers prefer having a name/title they can stand beside. For me, I think the old name represented a part of my blogging history ('mummy-blogging/parenting') that will no longer be the primary focus of this blog. I'll still write about these issues, sure, but not as much.
You've made it all the way to the end. Bravo!