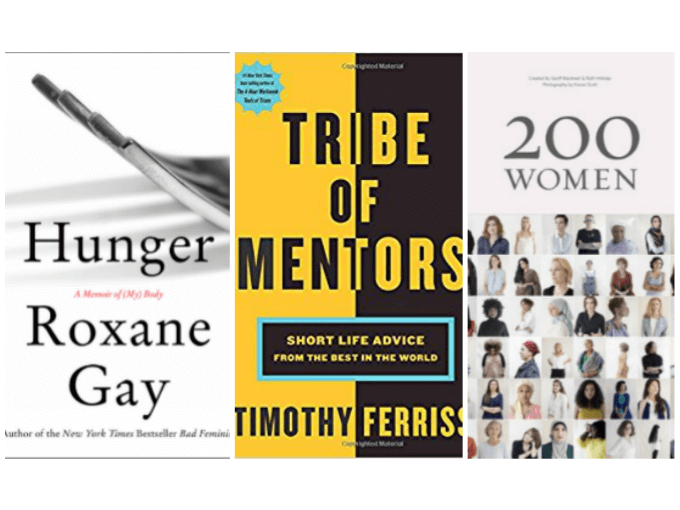 After the hecticness of the past month – well, year! – I've had a wonderfully slower paced bit of time recently and I've been taking full advantage by reading a lot. These three books are just a sample, really, but I'll cover the rest in the next December wrap up.
First, due to still being inspired by Goodnight Stories for Rebel Girls, I've been dipping in and out of 200 Women edited by Ruth Hobday, Sharon Gelman, Marianne Lassandro, Geoff Blackwell and photography by Kieran Scott. Not only is it extraordinary to be able to learn more about these women – most who are new to me – and what tremendous work they're doing in the world, I love thinking about the fortitude books like this will supply to others; a ripple effect of strength.
Thanks to Netgalley, I was given access to an advance copy of Tribe of Mentors by Tim Ferriss. I had a bit to say about its sibling text Tools of Titans back in February (that long ago?!) and so far my thoughts on this book are still coming together. I recognise the smart, slick way these books have been produced – close enough to be companions, almost-but-not-quite the same, but with enough new information to slake his audience's thirst. Fans of the former will want (or at least be curious about) the latter, and vice versa. Is Tribe of Mentors better? I'm not sure yet. But it does have a big thing going for it: I believe there is a higher representation of women interviewees, and for that I am glad. (An aside: I'm trying to understand why they went with Tim vs Timothy on the covers of the books. There must be a reason.)
Last, I have Hunger by Roxane Gay – it finally came in at the library after being on reserve for ages and someone else has already reserved it again so I only have a short amount of time to read! (I love deadlines – except reading ones!) If Gay is one of those authors whom you've heard about but you haven't made the time to read yet, let me strongly recommend that you do. Just listen to her reading from her work:
What are you reading this month?