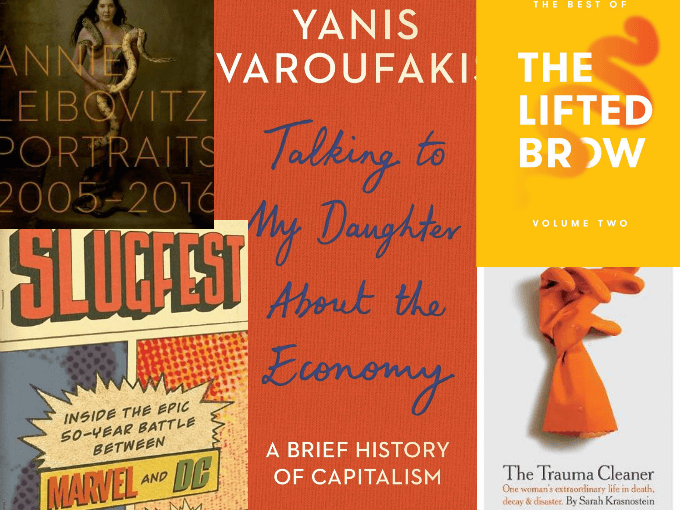 If I was to draw a list and divide that into two columns, one being fiction and the other nonfiction, and then write down all the books I've read this year (finished and abandoned), I confidently predict that the nonfiction list would be longer. There are various contributing factors, but one of these is the fact that there is just so much Australiana talent coming up and through – a terrific example being those found between the pages of The Best of the Lifted Brow: Volume Two ($25.25). This anthology is rich with essays on queer life, Aboriginal history, and the adult industry. The Brow has been described as "the most electrifying and idiosyncratic literary journal in Australia" and that's a badge they'd wear with pride. Read this to see why.
The price makes it somewhat of an investment, sure, but photography lovers will be pleased to hear that Annie Leibovitz Portraits: 2005-2016 by Annie Leibovitz ($79.95 – Hardcover) is out. In the eleven years this spans, you'll find featured an assortment of celebrities and artists gorgeously posed and shot.
Slugfest: Inside the Epic, 50-Year Battle Between Marvel and DC by Reed Tucker ($25.50). Here's a truncated blurb:

The most bruising battle in the superhero world isn't between spandex-clad characters — it's between the publishers themselves. For more than 50 years, Marvel and DC have been locked in an epic war, tirelessly trading punches and trying to do to each other what Batman regularly does to the Joker's face.

This is the story of the greatest corporate rivalry never told. Other books have revealed elements of the Marvel-DC battle, but this will be the first one to put it all together into a single, juicy narrative. It will also serve as an alternate history of the superhero, told through the lens of these two publishers.
This could be a good contender for the hard-to-buy-for person in our lives (we all have one) – especially if they are into comics and the movies.
Oh, I'm excited about this next book. I've heard nothing but praise for The Trauma Cleaner: One Woman's Extraordinary Life in Death, Decay & Disaster by Sarah Krasnostein ($24.50). As you might divine from the title, the subject of death and violence won't be to everyone's taste, but it's much more than that: it's a compelling story about the life of Sandra Pankhurst. This trailer will explain.
Read an extract from Penguin
here
.
The premise of Talking to my Daughter About the Economy: A Brief History of Capitalism by Yanis Varoufakis ($24.95) is very interesting to me. Let me quote the opening lines of this terrific write-up about it in the Guardian:
Not many authors write a book in nine days, and fewer still are likely to announce it in the prologue. Yanis Varoufakis has no qualms about doing so in this brief history of capitalism, structured around the device of talking to his daughter, Xenia, not long a teenager.
I've long wanted to know more about how economies work, these hegemonies of power which – to the uneducated – seem so inscrutable and so the thought of an accessible text on the subject is very appealing. 'Capitalism' happens to be one of my son's favourite words, so I think this would suit him too!
I would be remiss if I didn't include my book Trust the Process: 101 Tips on Writing and Creativity ($22.50). If – somehow! – you've missed hearing about it, the blurb is below.
There's nothing quite like the satisfaction of putting down in words exactly what you mean to say. But this can take time and it is not uncommon to have crises of confidence in a project, its prospects or even your abilities as a writer. Trust is required throughout the creative process. Whether you're a novice or experienced writer, Trust the Process will help you achieve your goals by providing 101 tips and exercises to inspire, energise and motivate.

Featuring contributions by some of the country's most-respected writers: Lisa Dempster, Kelly Gardiner, Lisa Heidke, Eliza Henry-Jones, Lee Kofman, Summer Land, Laura Jean McKay, Angela Meyer, Penni Russon, Annabel Smith and Fiona Wood.
I'm quite proud of it, as I am of On The Many Shapes Bodies Will Take ($14.95): "On the Many Shapes Bodies Will Take is a poetry collection which spans the course of a woman's life and picks up on themes common to Andrews' work: love, loss and coming to a sense of self". While it might appear that Shapes is on the wrong list, it is in fact what I've been calling "memoir-ish" – some poems have certainly been pulled from my own experiences. I'll let the reader figure out which ones they are.
Do any of these titles pique your interest? Let me know!
The prices quoted in this post were found on Booktopia and were correct at the time of writing. The Christmas cut-off date for non-stocked items (those advertised with shipping times long than 1-2 days) is the 

1st of December

 and the cut-off for stocked items will be the 

14th of December

. Full disclosure: I am an affiliate of Booktopia, which means I earn a small commission if you click through from this site and make a purchase.