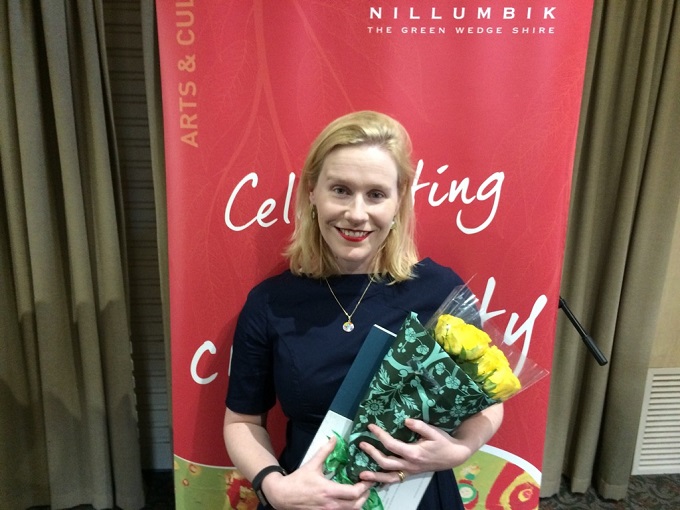 A little over a week ago I was announced local division winner of the 2017 Alan Marshall Short Story Award. At the same ceremony, I also received a local highly commended in the 2017 Nillumbik Ekphrasis Poetry Award. I've been in two minds whether to write about the occasion for a few reasons, mostly because I've already talked about it on social media! (A fair bit!) Part of me wondered if it would be indelicate to do so again.
 Here I am with Debra Lawrance, who is amazing in 'Please Like Me'.
And you know what? It probably is. But I changed my mind (obviously, for here I am) because I have another experience to compare it to – my 2008 Alan Marshall win in the same category. There are similarities and differences.
Both stories were about subjects related to the female body – 'The Appointment' was about a mother deciding to terminate a pregnancy; 'Miriam and Mildred' was about a fifteen-year-old girl hiding her menstruation to avoid being married off in a religiously conservative community. Both were judged by writing heroes of mine – Cate Kennedy and Bruce Pascoe.
2008 – the story of the night is here.
The difference is I only sent in one entry in 2008. I'm not sure if the rules have changed, I can't remember, but now I get to enter up to three entries for free because I'm a local resident (the same goes for the Ekphrasis award). And that's what I did. On the day of the deadline for both the competitions, I typed maniacally in the morning to get all six submissions ready to be submitted online in the afternoon. Of the poems, the strongest one was the one that ultimately 'got up' in the end, but I wasn't as sure about the stories. I hit 'submit' with a deep exhale and a 'let's see what happens' frame of mind.
In my brief thank-you speech, I said I was particularly happy/proud because I've felt a lack of confidence writing short stories almost since that last Alan Marshall experience in '08. Those I like found their way into Crying in the Car in 2012, but then I went quiet. 
Moving forward, I hope to continue writing myself back to short stories. I love them so.
Riley listening to a recording of my poem.