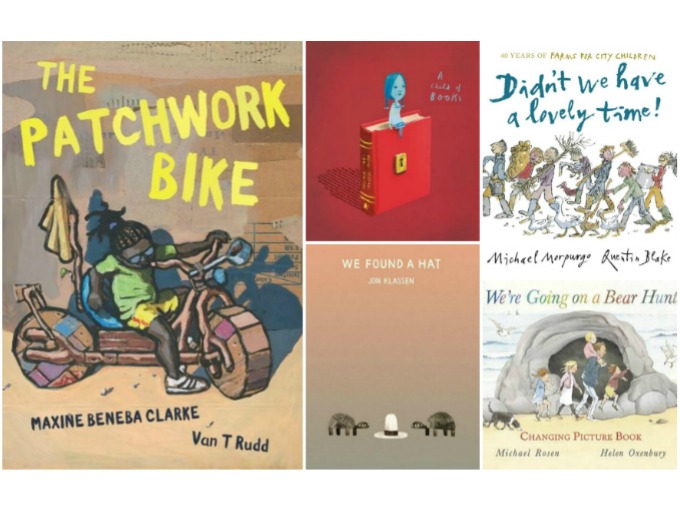 The Patchwork Bike by Maxine Beneba Clarke and Van T Rudd ($18.80)
Here is the synopsis for The Patchwork Bike:
When you live in a village at the edge of the No-Go Desert, you need to make your own fun. That's when you and your brothers get inventive and build a bike from scratch, using everyday items like an old milk pot (maybe mum is still using it, maybe not) and a used flour sack. You can even make a numberplate from bark, if you want. The end result is a spectacular bike, perfect for going bumpity-bump over sandhills, past your fed-up mum and right through your mud-for-walls home.
Maxine Beneba Clarke is a tremendous talent. This is her first picture book and it celebrates the ingenuity of children and their delight in play.
I've already got this hidden safely away in the cupboard to give to Riley for Christmas. We Found a Hat is the final in Klassen's enormously successful hat trilogy. If you've somehow missed on the previous two titles I Want My Hat Back and This Is Not My Hat this video will give you a taste of the humour and the wonderful illustrations.
A Child of Books by Oliver Jeffers and Sam Winston ($21.95)
A Child of Books is the latest picture book from children's literature favourite Oliver Jeffers. This time, and for the first time, he has teamed up with another artist, internationally exhibited artist Sam Winston.
This is wonderful, especially the illustrations, featuring collages of text taken from classics, making different shapes, always giving the eye something to find and seek.
We're Going on a Bear Hunt is one of those 'forever' books  – I'll always have a copy on the shelf and I always recommend it to people looking to add just such a title to theirs, or give as a gift. I can't tell you how many times we've gone for a family hike and if we encounter some long grasses or rushes I'll chant 'swishy swashy, swishy swashy'.
This is a 'changing picture edition' and I admit I was curious as to what that meant because the online descriptions were a bit vague.
The title grabbed my attention, as did the unique illustrations of Quentin Blake. It's always exciting to see a new book he's illustrated.
I should say this isn't a 'typical' picture book. It is quite small (dimensions wise) and text-rich, making it better for parents to read, or for older, more capable readers to tackle.
Didn't We Have a Lovely Time! celebrates the fortieth anniversary of Farms for City Children, the charity founded by Michael and his wife Clare and is based on the true story of a boy whose confidence and speech returns after meeting a very special horse down on the farm. I had tears in my eyes by the end of it. Very moving.
Here's more about Farms for City Children.
The prices quoted in this post were found on Booktopia and were correct at the time of writing. Christmas ordering details are as follows – you will need to do so by 1st December for non-stocked items and the 8th December for in-stock items. Full disclosure: I am an affiliate of Booktopia, which means I earn a small commission if you click through from this site and make a purchase.