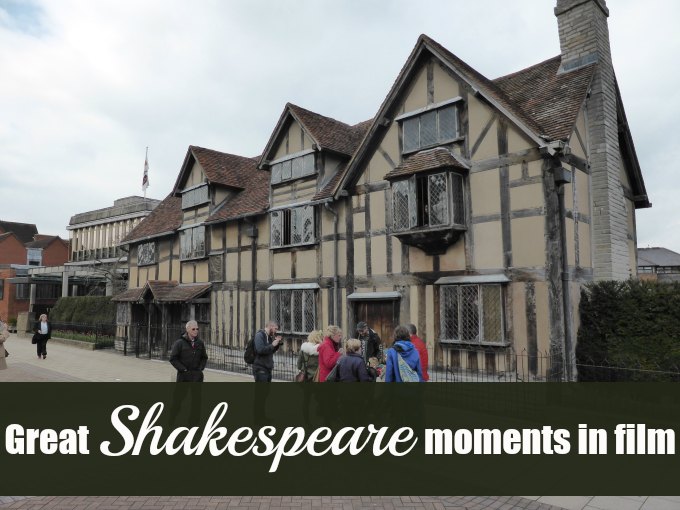 April 23rd, 2016 is the 400th anniversary of Shakespeare's death. He is probably the writer to have had the greatest impact, or significance, on my literary life. I doubt the legacy he has left upon the world will ever be topped. Below are some of my favourite moments on film/video. Not all are from the plays themselves, but you'll see what contributions he's made to popular culture in general.
Note: there might be some plot spoilers along the way. But it's been 400 years. There are no excuses, c'mon.
 1.Let it Be Speech – Hamlet
It's customary in similar lists to save the best to last, but I'm going to put this speech first. It's towards the end of the play and, though he says otherwise, I think Hamlet knows he's going to lose the impending fight with Laertes. This is Hamlet's quiet, private goodbye to his best friend and is the favourite of all the versions of the movies I have seen. Branagh's mix of resolve and grace always makes me cry. Then again, I always do in this scene, no matter who's acting.
2. St Crispin's Day Speech – Henry V
From Horatio Nelson before the Battle of the Nile, to Laurence Oliver over the radio during World War II, many have used this speech to rouse the fighting spirit of men against obstacles that look too hard or vast. It's a slow-burner, stay with it until the end. The score by Patrick Doyle (a regular collaborator of Branagh's, and also from Harry Potter) also helps.
3. To Thine Own Self Be True – Hamlet
It's one of the ironies of Hamlet that the most odious characters should be the one that imparts such excellent life advice. Well, that's what I used to think. Now I'm a bit older, I can also see this scene from a parent's perspective: a father taking those precious last seconds to tell a child about the world before (re)entering it. Ian Holm is my favourite Polonius – this is the Mel Gibson version, one that tends to be forgotten and was my favourite when I was a teenager.
4. Eat His Heart in the Marketplace – Much Ado About Nothing
In an extraordinary scene, less than four-and-a-half minutes long, these things happen:
Benedick and Beatrice finally declare their love for each other.
The depths of Beatrice's anger – and violent rage – towards Claudio are revealed: 'Oh, that I were a man!'
Benedick promises to challenge Claudio.
Branagh does the right thing here and stands back and lets Thompson shine. I also really, really like (prefer isn't the right word) the way Amy Acker and Alexis Denisof played it in Joss Whedon's adaptation.
5. Orson Welles and Peter O'Toole on Hamlet
More for the fans of Hamlet, O'Toole and Welles (or all together) this is a really interesting dissection of the play and makes me wish more of these conversations happen today. Or they probably do in podcasts somewhere. If anyone knows of a good Shakespeare podcast, let me know.
6. Monsterpiece Theatre – Hamlet
Let's enjoy Mel Gibson before he went… well… you know.
7. Shakespeare Song – Horrible Histories
One you might be familiar with if you have kids.
Tell me, what are your favourite Shakespeare moments that have been captured on film. Are there any that aren't on YouTube? I had one I couldn't track down – it was an exchange between Rosencrantz and Guildenstern with Hamlet in the Gibson version. I'll need to watch it again.