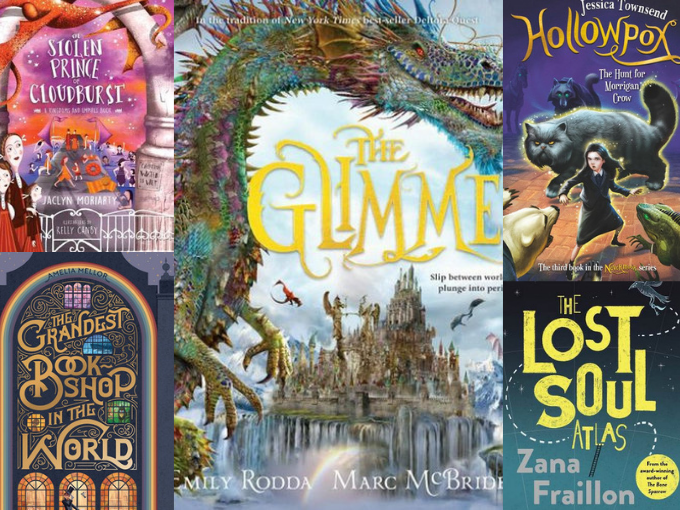 Welcome to my Christmas book recommendations series. If you missed them, here are the links to my picture book and junior fiction posts. Again I'd like to mention that out of all these lists, I think the most potential crossovers happen between junior and middle-grade titles, so I will post the reading age recommendations publishers or experts suggest, but it will also depend on the individual readers themselves. I'm trying my best to help you get the right book into the right hands. Even, or perhaps especially, if that person is a reluctant reader.
The Glimme by Emily Rodda and illustrated by Marc McBride was a Notable Book for Younger Readers in the 2020 CBCA Awards. It is a wonderful fantasy story and I wanted to include these two YouTube videos talking more about them. (I love the glimpse of Montsalvat in McBride's video!) While I love the text and those glorious illustrations, I'll quickly mention I enjoyed the audiobook read by Andrew Scott (Hot Priest in Fleabag, Jim Moriarty in Sherlock number among many other performances) and recommend if you want to listen to his different accents and inflections.  (Readers aged 8-12 years.)
The Stolen Prince of Cloudburst
by Jaclyn Moriarty and illustrated by Kelly Canby is the third in the Kingdoms and Empires series, so fans will already be aware of this latest addition. Here is a taste of what you'll find from the publisher's
website
:
"Esther Mettlestone-Staranise is looking forward to another year at Katherine Valley Boarding School. But she arrives to find a number of strange and unsettling changes. For one, her new teacher is rumoured to be an Ogre. Two mysterious students have joined the school, and one of Esther's classmates is an undercover Spellbinder. Most disturbingly, the mountains surrounding the school – usually a delight of glaciers, teashops, lakes and Faeries – are now crowded with wicked Shadow Mages."
Newcomers, don't worry. The books in this series can be read independently as well, so start here if you wish or go back to the beginning with The Extremely Inconvenient Adventures of Bronte Mettlestone. Moriarty is known for her rich characters and humour. And although this is nearly 600 pages in length, it rollicks along in pace. (Readers aged 10-14 years.)
Hollowpox: The Hunt for Morrigan Crow by Jessica Townsend is the third installment in the very successful Nevermoor book series. And this time around, "…a strange illness has taken hold of Nevermoor, turning its peaceable Wunimals into mindless, vicious unnimals on the hunt. As victims of the Hollowpox multiply, panic spreads. And with the city she loves in a state of fear, Morrigan quickly realises it is up to her to find a cure for the Hollowpox, even if it will put her – and the rest of Nevermoor – in more danger than ever before . . . (source). As I write this blog post, I spy a copy of Nevermoor: The Trials of Morrigan Crow on the arms of a nearby sofa so its safe to say this will make its way into our house as well! (Readers aged from 8+ years.)
As states the publisher's website, the synopsis for The Grandest Bookshop in the World by Amelia Mellor begins like this: "Pearl and Vally Cole live in a bookshop. And not just any bookshop. In 1893, Cole's Book Arcade in Melbourne is the grandest bookshop in the world, brimming with every curiosity imaginable. Each day brings fresh delights for the siblings: voice-changing sweets, talking parrots, a new story written just for them by their eccentric father". Why don't you listen to Mellors talk a little more about it?
Thanks to a few former workplaces, I was familiar with the great legacy of the Coles Book Arcade and history boffins will know just how important it was in its time to the city of Melbourne (
in fact, you can read some information here
). I'm so delighted there's a book about it now! For kids! An inspired idea! (Readers aged 9-12 years.)
"A boy awakens in the Afterlife with a pocketful of vague memories, a key, a raven, and a mysterious atlas to guide him as he sets out to piece together what happened, and try to find his way home …" (Source) That's the introduction to The Lost Soul Atlas by Zana Fraillon, a 2021 CILIP Carnegie Medal Nominated Title. It's sophisticated, dark yet funny, and a tale masterfully imagined. I felt many heart-tugs as I read it. (Readers aged 10+ years.)
Disclosure: I'm a Booktopia affiliate. This means I earn a small commission if you click through to that site from this one via an affiliate link and make a purchase. Normally I like to provide Booktopia's Christmas cut-off dates for both stocked and non-stocked items, but as this is 2020, and Australia Post is under pressure with deliveries, I think the general recommendation is to try and get all your shopping done as early as possible, just to be sure! I know I will be. Also, Qantas Points can be earned on eligible Booktopia orders. (I know travel seems like a far-off prospect, but it will happen again!) So if you're a Qantas Frequent Flyer you can link your membership to your Booktopia account. More details here.