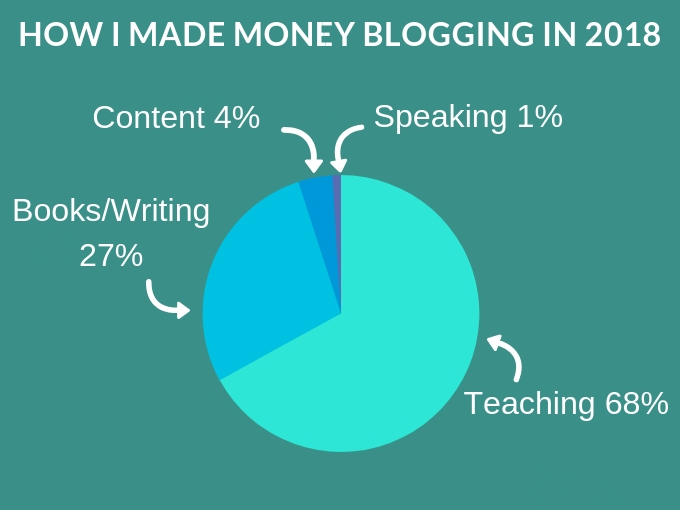 Welcome to the annual blog monetisation recap – this is the sixth (!) time I've written such a post and I hope that it provides a bit of insight and information for anyone who's interested in doing the same for themselves in 2019 and on whatever scale – small, medium or large. As always, links will be available at the bottom if you'd like to dig deeper into the archives and see how things have changed over the years (spoiler alert – things have changed a lot).
Finally, as ever, I keep writing these posts because reflection is important to me. Clarifying what direction I want to take and what I should be doing to get there, rather than just 'going with the flow', keeps my priorities intact.
So here are the top four thoughts I have about how I made money blogging in 2018.
1. Books are rewarding. And risky.
Seeing money come in from traditional bookselling can take a while as distributors first have to wait for what returns – if any – come back from the stores before figuring out what sales were made in the previous quarter (or however long their cycles take). So much of this number comes from what books I sold in 2017. It's certainly a bit of a waiting game!
(That said, if you sell directly to people, either in-person or via a website, then revenue is more immediate. I'm very pleased I invested in a Square credit card reader for in-person events and hope to utilise it more in the future.)
Unfortunately, my distributors went into liquidation in September. I still feel bad for everyone affected; I'd known some of the staff for over ten years. Many other publishers found new distributor homes at other places. I haven't as yet, not from lack of trying. My list is too small, my output too irregular. It… big breath…
… it was a real watershed moment in terms of deciding what I ought to do next. A moment – a decision – I shied away from and in true Scarlett O'Hara style I kept saying "I'll think about it tomorrow".
Well, it's now 2019. And I'll have to.
2. Crowdfunding is a wonderful option. But it can flop when not done right.
I had the pleasure of speaking to a number of talented writers in my podcast episode about Patreon during the year and was inspired (still am) by how well they, and many others, are doing on the platform. Me? Not so well. (I find it somewhat fitting that I had to re-verify my account when writing this post because it has been so long since I logged in last.) I'll either have to find a way to really turn it around or, like the podcast, retire it altogether.
I'm one of those people who gets inspired by the new and shiny. In my work as a teacher, and for myself, I need to be across different ways of working and being sustainable in the creative arts. But no-one can do everything by themselves.
3. Content ought to be prioritised.
The content earnings percentage is considerably lower than last year and I think that directly reflects my decision to concentrate on my offline writing in 2018. While I am personally happy and satisfied with what I managed to achieve on that front, neither can I deny that this traditionally very important area 'took the fall'. This didn't necessarily have to happen either – out of everything I do, content is what I could get the most assistance with. I know other bloggers who get help with their image sourcing, social media scheduling, newsletter writing and sending (some organisations are now employing people just to handle their newsletters) etc. etc. This is an attractive prospect – and I've thought about it many times – but I just didn't have the money, nor, more importantly, any kind of true strategic plan they could help implement. If I did have one, then I think I would've gone down that path. Maybe that will happen in 2019. Let's see.
But even if it remains just me, I will need to think about what I'm going to write about – what stays, what goes, what I might resurrect. Even the kids lament that I'm not as personal on here as I used to be. If you're a long-term reader, I'd love to hear your thoughts – tell me what you want!
4. People are curious. People want to learn.
One of the things that I love telling people – in part because I also get the reminder! – is that they can bring their own unique perspective and stories to blogging. They will be surprised as to how many other people out there in internet-land will be searching for similar information. If you can write material that makes a good match, that answers questions, it's terrific. Not only could you grow a following, but Google could also reward you in terms of rankings and search engine referrals.
I hope you found that interesting and I invite any thoughts/comments on the topic, either below in the comments or via social media. Here's to a successful 2019 for everyone!
Previous 'How I Made Money Blogging' posts: 2013, 2014, 2015, 2016, 2017
Like last year, I thought I'd extend this special offer on Skype consultations for those of you interested: apply the coupon code skypeblog at the shop to get a 50% discount. This will expire on the 28th February and consultations must occur in the month of March 2019.