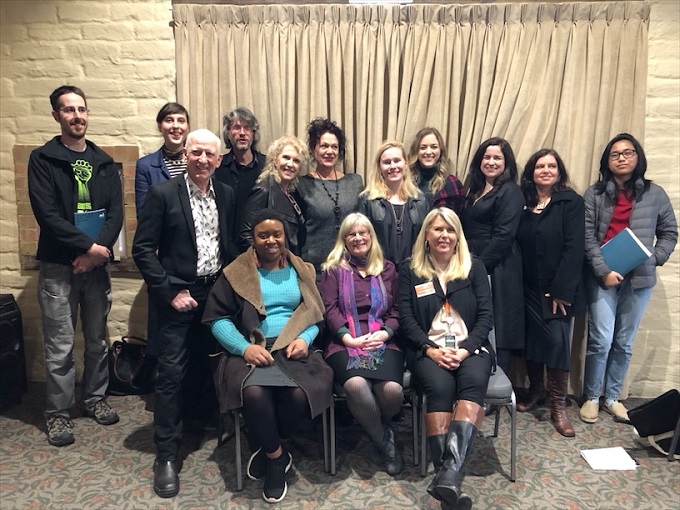 Group photo of the winners, highly commended, judges, actor-readers and special guests
I was one of the lucky winners at the Literary Nillumbik ceremony on Saturday 2nd September. The full list is below, taken from the Nillumbik Shire Council Arts and Cultural Development Facebook page.
Ekphrasis Poetry Award 2018, judged by Helen Lucas, Steve Smart and Izzy Roberts-Orr
Youth highly commended: Maya Rizkyvianti, 'Patchwork Head' in response to 'Unsaid + Nameless' by Imants Tillers
Youth Award: Coco Huang, 'Visage' in response to 'Portrait II' by George Baldessin
Local highly commended: Anna Trembath, 'Awe' in response to 'Frosty Night Cartouche' by Jock Clutterbuck
Local Award: Karen Andrews, 'Bodies are Always Made of Light' in response to 'Portrait II' by George Baldessin
Open highly commended: Magdalena Ball, 'Cartouche' in response to 'Frosty Night Cartouche' by Jock Clutterbuck
Open Award: Miguel Jacq, 'The map is damaged and beautiful' in response to 'Life World of the Longicorn Beetle' by John Wolseley
Alan Marshall Short Story Award 2018, judged by Maxine Beneba Clarke
Local highly commended: 'Sink' by Jennifer Porter
Local Award: 'With Or Without Us' by Hayley Gabrielle
Open highly commended: 'A Long Stretch' by Bai Klane
Open Prize: 'Carnival Day' by Julie Twohig
***
Apart from extending my congratulations to everyone – including all shortlistees and entrants – I know I don't really need to add much more to the above, but I've been asked a bit about the writing process and how I go about entering (because I've been lucky before), so I thought I'd share some thoughts here. Keep reading if that's your bag – and if not, skip ahead!
The deadline for entries this year was the 30th of April. So what was I doing apart from messing around on Twitter?
I'll say straight up that I'm very lucky. As a Nillumbik resident, I don't need to pay entry fees for either competition and I go into two pools – the local and the open. There is a maximum of three entries and I try to enter three (not that I do every year).  So that's potentially six pieces to write, edit and submit. The stories can be done in advance, but the poems have to be completed within a specific window, as the artworks are not revealed until about February-ish.
Ekphrastic poetry has been around since the Ancient Greeks, but (I think) is becoming more visible/popular. When I teach, I often get students to write it because the dread of the 'blank white page', which can be difficult for non-confident writers, is removed when they can refer to an artwork.  I like the challenge of celebrating what I like about a piece and doing my part of extending what I think is its message or theme. And if I'm presented with pieces I might not have an immediate emotional response to, there's an additional challenge!
Unlike other years, I could've responded to most of the pieces, so whittling down my choices to three was difficult. In the end, the George Baldessin, 'Portrait II' – the one I won the local prize for – was my first choice and it was the poem that 'came out' happiest, i.e needed the least amount of revisions. That's sometimes how I classify my poems, not 'good' or 'bad', but as 'happy' or 'tortured'. On the 30th April, while I gave them all a look over, the timestamp of the last time that file was looked at was 11.55am. (The 'Nic Cage face' of frustration was due to the stories… they were definitely worked on as the 5pm deadline ticked closer!)
I've been asked why I haven't posted the poem online, something I'm normally very happy to do with my work. The answer is it was published in the anthology of the prize, which the council are more than happy to send to people who express an interest to receive a copy. I encourage budding writers to do so because the judges' notes are always very helpful! Beyond that, as far as the poem is concerned, maybe it'll find a home somewhere. We'll see!
Also – before I sign off, there's one more thing.
Demonstrating again how lucky I am to live where I do, at the same time (in the same building!) sessions for the Yarra Plenty Regional Library Service's 2018 Booklovers Festival were on. Before the awards ceremony took place, I went down to listen to Mark Brandi, Melanie Cheng and Laura Elizabeth Woollett speak about writing and their books (which – as you know – is my jam). It was such a pleasure to them, as was slipping into the end of Sarah Schmidt's workshop to absorb her wisdom about writing historical fiction.
The library was abuzz that cold, dreary day and as I sipped on my coffee from the free coffee cart, chatting with friends while looking at all the festival and regular patrons, it struck me yet again how important libraries are as community hubs. May they ever continue to be so!