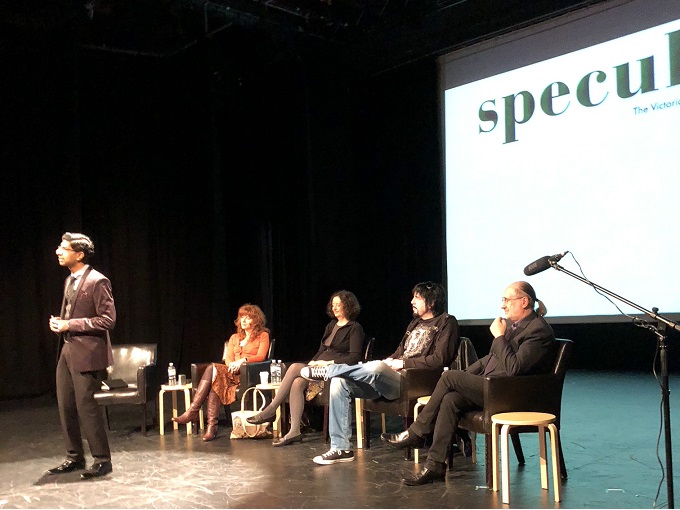 Photo, left to right: Speculate Director Joel Martin, Alison Goodman, Trudi Canavan, Jay Kristoff, Earl Livings
I love a good literary festival. Without a doubt, they've helped me as a writer, especially in my early years. As I wrote in Trust the Process, "I quickly discovered how valuable festivals are for learning, socialising, networking and being in the same room as many of my favourite authors, editors and publishers. I've never left one without adding yet more books to my reading pile. They're also motivating, and I need a large injection of that from time to time."
Along with that, I've been feeling lately that I've stepped back from making a point to attend certain events and I wanted to start again. Not so much for professional development reasons (although that would be a nice bonus), but because I've wanted to be more of an active local participant. I know how hard these days are to organise, the labour involved and all the rest. This is important and it's encouraging to witness. For as I also said, "communities are helping themselves find representative parity and it points to a real thirst for the arts in those areas."
So I thought I'd do a mini re-cap on two events I recently attended. The first, back in April, was the inaugural Speculate: The Victorian Speculative Writers Festival.
As the website states: "Speculate is a festival for writers of speculative fiction from any and all backgrounds… Speculate is all about building the speculative fiction writing community in Australia. You can expect to gain insights in world-building, craft, and publishing, and to have plenty of opportunities to network with other passionate writers."
They even created a short promotional video featuring a lot of the speakers. You can see it below.
The program of the day has since been removed from the website, which is a shame this casts my notetaking skills in a very poor light! (Though the
hashtag
has some gem quotes.) Looking back over my notebook now, I can see I only scratched a few quotes like "Search for specialness" by Alison Goodman and "Parents are inconvenient" by Trudi Canavan and they are a little befuddling out of context! I've written in all-caps DON'T SAY 'OKAY' IN HISTORICAL FICTION but can't remember who gave that piece of advice, and I marked down a solution for a problem I was having in a short story I was writing at the time that came to me in a brainwave.
The day had three particular highlights: a Dungeons and Dragons performance (including music!) featuring the talents of Ben McKenzie, Jay Kristoff, Amie Kaufman, Andrew Macdonald and Brooke Maggs.
#Speculate18
Dungeons and Development! pic.twitter.com/zk3y8P7qda

— Speculate Literary Festival (@SpecFicVic) April 28, 2018
It was very funny and when I got home and told Riley (our D&D player) he was very upset he missed it. Indeed, as it was happening I was sorry he wasn't there to watch. I'd love a repeat of this in some incarnation at another festival/event!
Second: during her panel, Laura E. Goodin recommended subscribing to Daily Science Fiction – where you receive via email one short science fiction story most weekdays. I've since done so. I agree with her when she said that while the quality of writing can vary, what's important are the ideas that feed the stories.
Last: whoever had the genius idea to have a barbecue lunch outside should be commended. I hadn't experienced that at a festival before and it was nice to mingle with others in the sunshine (lucky there was sunshine!) and sit down on the grass with a plate of food and chat with my good pal Craig. It had a cosy, casual vibe.
*
KidLitVic – Meet the Publishers "was established to enable new, emerging and experienced writers and illustrators the opportunity to meet and hear from industry professionals about publishing children's and YA books in the current Australian market."
Beginning in 2016, KitLitVic has quickly established itself as one of the premier children's literature events in the country. There is the usual mixture of panels and paid-extra workshops and masterclasses and it was held at one of my favourite (and former EWF) venues: Melbourne Town Hall. The organisers are to be commended for their level of communication leading up to the event – they were responsive and helpful. It looked like I wouldn't be able to make it at one point due to family circumstances and they really were calming and put me at ease.
It was a more intense an experience than I'd anticipated. Arriving just before 9 am that Saturday morning was like entering a cacophony of sound. You might be familiar with that conference-y chatter, the coffee cups clanking on saucers… all while casting your eyes about trying to find someone you know. While I didn't know too many people there, it didn't really matter. People were very willing to stick out their hand and introduce themselves or turn to you as you sat side-by-side and ask whether you were an author or an illustrator.
The sessions I found most valuable were 'Marketing for School Visits' (See that new link up the top of the site? The one that says 'School Visits'? I've implemented the Jacquelyn Muller's advice already) and the panel 'Creating an appetite for series' with Kimberley Bennett (Penguin Random House), Marisa Pintado (Hardie Grant Egmont) and Lisa Berryman (HarperCollins Australia).
The topics discussed included the differences between an episodic series or a numbered series. The former is more common for beginner/early readers while the latter is more prevalent for middle grade/young adult readers. Both have potential drawbacks: booksellers can find it hard to stock numbered series' and (good) episodic series' need to find a balance between being individually satisfying while leaving room for further books/stories.
I was a bit surprised (in a nice way) at the open way a book's potential to be turned into a series was discussed. This usually happens at the reading/contract stage and I can see how it would be mutually beneficial for the author and the publisher, especially if the series takes off. The publishers did stress that for this to happen the book would need to have commerciality, a compelling hook and revistable characters and worlds. In other words: magic. (I mean captivating, but also – possibly – containing magical elements!)
And writers, are you worried you don't have a whole series in you? That's fine – trilogies are still big too.
Just after the event, I tweeted this:
Walking to school my son outlined his ideas for not one but two middle grade book series' and bloody hell if he isn't more sorted out than I am.
— Karen Andrews (@KarenAndrewsAU) May 24, 2018
Lisa Berryman stated during the session that the first book in a series or trilogy needs time to seed in the market. Well, one of Riley's ideas has set seed in my imagination. I might work on that a little when I get a chance…(With his help, of course. He's already claimed the IP.)
KidLitVic summary: For an event that is fully catered, including a cocktail party at the end of the day, I think they've done very well to keep it as affordable as possible. Although I think for more established writers, the value-adds of manuscript assessments or workshops are a good idea and they soon add up. But I do think it's worth considering. I'm glad I went.
If you attended either event I'd love to hear your thoughts about it.