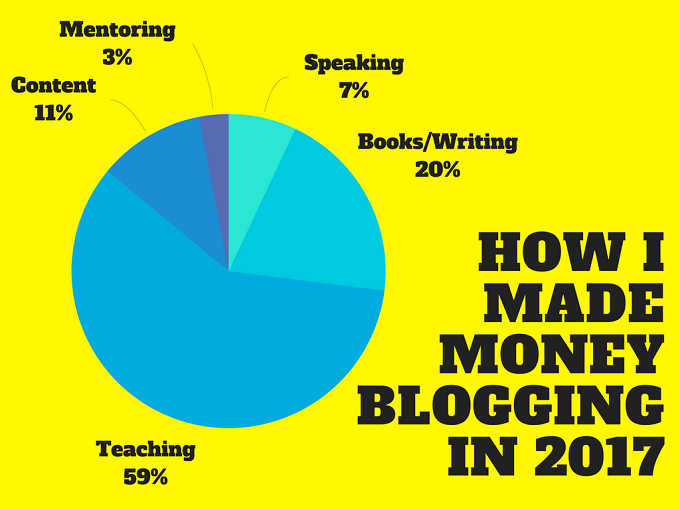 In a bit of a departure from the regular scheduling of this post – moving it forward a month from January to December – I hope to help those people who will be using their holiday rest to think about how they'll be monetising their blog or leveraging its influence (or both) in 2018.
For those of you who're here for the first time – welcome. This is the fifth time I've written on this theme, so if you're interested I will link to previous years at the bottom of the post. I find this post is very valuable in a number of ways. The first is because people love reading them! The second is because it affords me with an opportunity to stop and evaluate how I'm going, what's working and what's not. Most important of all, I reflect on what I'm doing and how much I'm enjoying it! I teach my students that sustainability is key to successful blogging and that needs to apply to me, too.
Here are my top five findings.
1. Content earnings increased
To clarify, 'content earnings' is money made ON the blog – affiliate marketing, native advertising, shop sales etc. Content earnings went from 52% in 2014 to a tiny percentage last year. The healthier 11% this year is in part due to the way I allocated earnings to different areas. This is in reference to 'My Creative Process', an ecourse I run twice a year. In previous years I put that in with teaching, but it really belongs in content because I do the marketing/promotion of that myself as opposed to being hired by other parties/organisations. I've had my best year yet with 'My Creative Process', which is nice to know when you consider that I did no sponsored posts in 2017. A few opportunities fluttered by, but I didn't have the time to pursue them or enter negotiations.
2. People are hungry for knowledge
This is related to 'My Creative Process', but mostly in reference to my regular teaching position at Centre for Adult Education (CAE) this year and the number of workshops I did for Writers Victoria. I am endlessly fascinated by my students, their motivations for attending and what it is they want to accomplish.
Teaching – as any teacher will tell you! – isn't easy. When it comes to teaching blogging, I really have to stay in touch with what's happening, the news etc. A slide might become outdated in a matter of weeks! Vigilance is important and I take that seriously.
I hope to do more YouTube video work next year and I'm still figuring out how that will take shape – I want to instruct/help/impart knowledge. Watch that space for more.
3. Be where the work is
If you compare this graph with last year's you'll notice that 'Books and Writing' is way down (less than half) and given that this year I've released two books you might think I'd be disappointed. No. This is why context matters and what this really shows is the good year I've had teaching.
And this brings me to my point – prioritising my availability has paid off.
I've still written hard, but those words were channelled into a product. This has been the quietest year ever for me on the freelancing front because I couldn't see how it would help my 'bigger picture' strategy of getting back into making books. Plus, chasing unpaid invoices – which seems to be the bulk of my admin when I do freelance stuff – wastes so much time. The good thing about winning the Alan Marshall Short Story Award money (apart from the glory of the achievement) was the reassurance that doing straight up creative work could pay off. It's not easy to take that time out, especially without any guarantee of success.
Those last few sentences were hard to write because pitting the creative against the practical feels antithetical, but I think many people working in the creative arts will tell you that it is commonplace. It's what I'm saying, at least. So be where the work is, but keep perspective too.
4. Ask for help
Very recently I launched my Patreon page. If you're unfamiliar with Patreon, simply put it "allows artists to receive funding directly from their fans, or patrons, on a recurring basis or per work of art" (quote from Wikipedia). Essentially, it is ongoing crowdfunding for artists and many of these artists work in the digital space.
As I'm still in my infancy on that platform, I can't really comment as to my experience with it yet. But what I can say is that I'll be interested to see if it's comparable to the Pozible crowdfunding campaign I ran last year. Some people just want to see you succeed – if it takes asking for a help, even just a little, then I say go for it. I'm traditionally very bad at asking for help and I'm trying to turn that around.
5. Blogging is NOT dead
'Blogging is dead' is a phrase that's been around for a while, but I've heard it especially often this year – mostly as a response to new people I'm meeting and they find out more about what I do.
"Oh, I thought blogging was dead?" I'm told.
The inflexion – the question – is significant. Now, some people who have a past or interest in blogging will have an informed opinion as to whether they agree or not. But many are repeating the phrase they've heard in the news or social media.
I think a better phrase is that 'blogging has changed'. This is why I talk about diversification in previous 'how I made money blogging' posts. Keeping a singular or primary revenue stream is risky, so I'm not going to talk about that again this year – I reckon the graph itself advocates for diversity.
Blogging is vast. It's not easy. This is why I find teaching so refreshing as many people are new to the medium, they're excited about its potential and don't care about earning money. It's a purely creative exercise. Are they willing to change their minds? Sure, some do. And that openness is important. It will serve them well.
They're my thoughts as we approach the end of 2017. I'd love to hear your thoughts on blogging – whether you make money from it or not. Are you still finding it fulfilling? Enjoyable? Or a chore that hasn't been worth the investment of time, money or both. I'd love to hear.
How I Made Money Blogging: 2013, 2014, 2015, 2016
Like last year, I thought I'd extend this special offer on Skype consultations for those of you interested: apply the coupon code skypeblog at the shop to get a 50% discount. This will expire on the 31st December and consultations must occur in the month of January 2018. Get in early as only a limited number are on offer. Don't forget the Christmas giving potential!