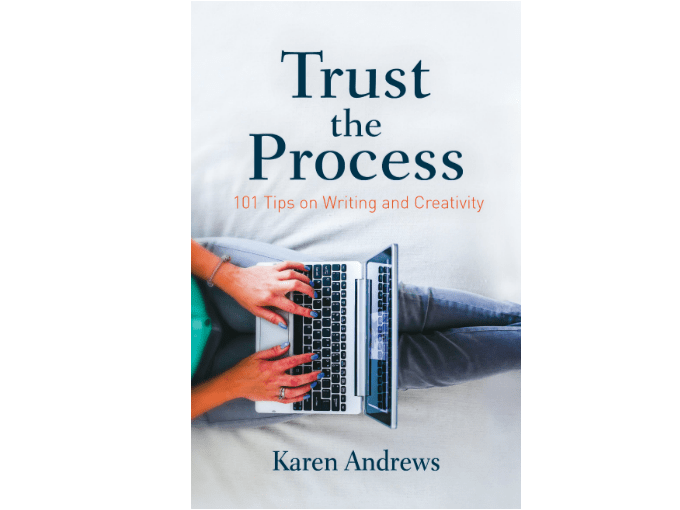 I've been alluding to impending news for a while now, haven't I? Well, today is the day. Without any further ado, I'm excited to reveal the cover for my upcoming book, Trust the Process: 101 Tips on Writing and Creativity. Here's the blurb:
There's nothing quite like the satisfaction of putting down in words exactly what you mean to say. But this can often take time and it is not uncommon to have crises of confidence in a project, its prospects or even your abilities as a writer. Trust is required to make it through to the other side of the creative process.

This book will help.

Whether you're a novice or experienced writer, Trust the Process will help you achieve your goals by providing 101 tips and exercises to inspire, energise and motivate.
You may pre-order a copy from my shop. Please note that the first TEN pre-orders I receive will get a thank-you gift from me when I post out the books. Everyone who pre-orders will be getting their hands on the book before other readers ahead of its official release date on the 16th October. Oh – and you'll receive free postage. How does that sound?
Here are some bibliographic details if you would like to order via your local bookshop or request it for your library. I will notify you once it will be available from Booktopia and other places.
Title: Trust the Process: 101 Tips on Writing and Creativity
Author: Karen Andrews
ISBN-10: 0-9953506-2-0
ISBN-13: 978-0-9953506-2-5
Audience: General
Format: Paperback
Published: 16th October 2017
Publisher: Miscellaneous Press
Retail Price: 27.99
Thank you all so much for your support! Please let me know if you have any questions. Here's to the next few months (and busy typing fingers!).