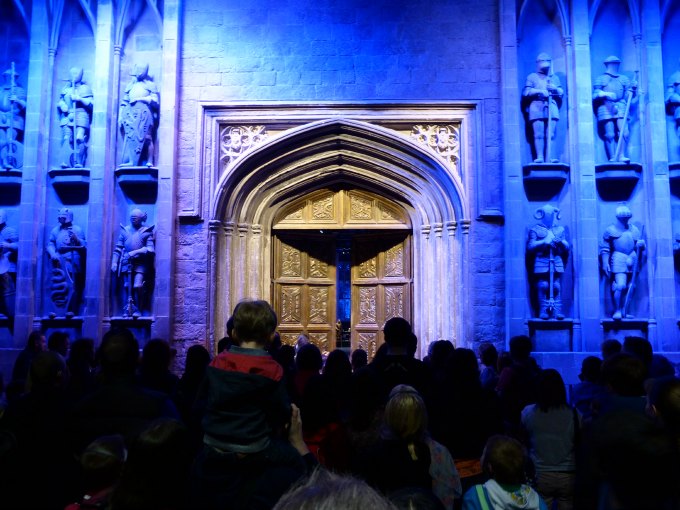 Adam took this photo (it's a huge advantage being tall!) the moment the doors of the Great Hall began to inch open. I'm standing in front, next to Riley, and I tell you I was excited. As an unabashed Harry Potter fan, I wanted the Harry Potter Warner Bros. Studio Tour to be good; not walk away disappointed like what happened at LEGOLAND.
Turns out, I was worried about nothing. It was amazing.
This post would turn into a monster length if I detailed every single exhibit or thing to see during the tour – and I wouldn't want to, either. Not only would it be exhausting, but I don't want to ruin the surprises or delights in store. So what I will cover is some of my personal highlights and some tips to make the experience run as smoothly as possible. At the bottom of the post is also a video of the day, an 'action' accompaniment to the photos.
Getting there, tickets and admission
In a move that will surprise no-one who's read my reviews so far, I bought my tickets online before leaving Australia. Not only because I prefer it – but that's the only way you can. Tickets are not available at the studio.  There are ways you can 'enhance your visit': these include getting a digital guide once you are there, and we did so. As we'd discovered in our travels, some guides are really well done and match a site perfectly and other places are absolutely fine and enjoyable without them. This Harry Potter tour is one of the few places that fall into both camps: if you can afford to pay the extra, it's very informative, but people without them will also be entertained by the vast amounts of exhibit signage and video documentation on display. I'll go into the other optional 'enhancements' a bit later.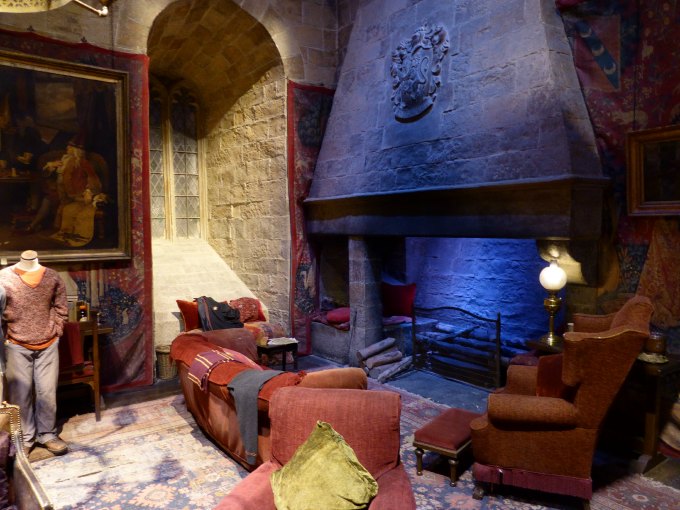 Coming up close to the actual sets used in the movies, such as the Gryffindor Common Room above, you realise how small they are, and how tightly packed it must get with the cameras, actors, lights and more while they're shooting. I admit to a thrill whenever I saw a costume I love – such as Hermione's Ball Dress and even that pink jumper she's wearing when she holds her wand up to Malfoy in the Prisoner of Azkaban movie.
For similar reasons, I'm sure, I watched people go bananas when they encountered treasures: horcruxes, the time-turner, the Philosopher's Stone, the Golden Snitch and more. I don't think I'm exaggerating when I say that these objects not only have external beauty but are intrinsically connected to fans' identities and personal history – especially the fans who read the books when they were older kids/teenagers. Then again, I was in my 20s when I read the books, so maybe it goes for all of us!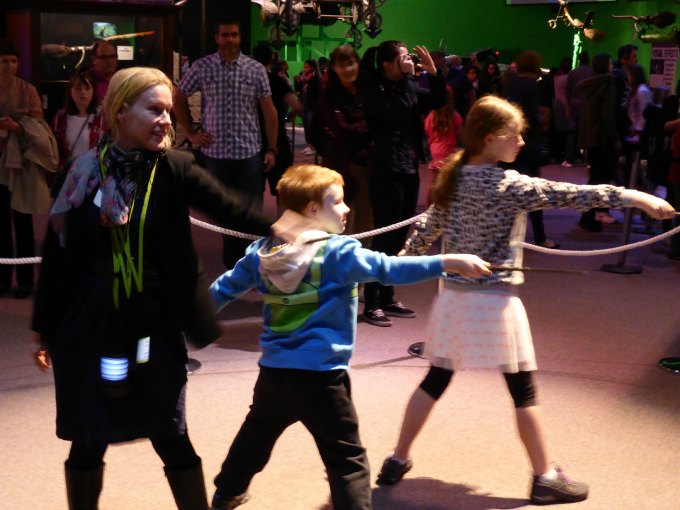 There are interactive/participatory opportunities during the tour. Here we are being taught how to properly cast a spell with wands. That was free. The kids begged to go sit on a broomstick and fly around in front of a green screen but I said no. That was free, also, but you have the option to purchase a photograph or DVD afterwards. I knew that if I opened that door, the kids would want to buy something (each!) and we just didn't have the budget. The line was crazy long, too.
Just something to bear in mind! By the way – casting a spell is a more physical act that you might imagine!
Platform 9¾ is open!
The new exhibit, Platform 9¾, opened shortly before we arrived. There you can get a photograph holding on to a half-vanished trolley going into the wall, or take a walk through the train. The line for that can get long, but it moves pretty quickly. Each carriage is decorated according to the set design of each movie, and it's interesting to note the differences as they go along. There is also a cut-away carriage, made for the movies to make it easier to shoot the actors close-up. There's a 5 minute-or-so long narration that you can sit down and be part of – although Dementors do pop up towards the end, so maybe warn little ones.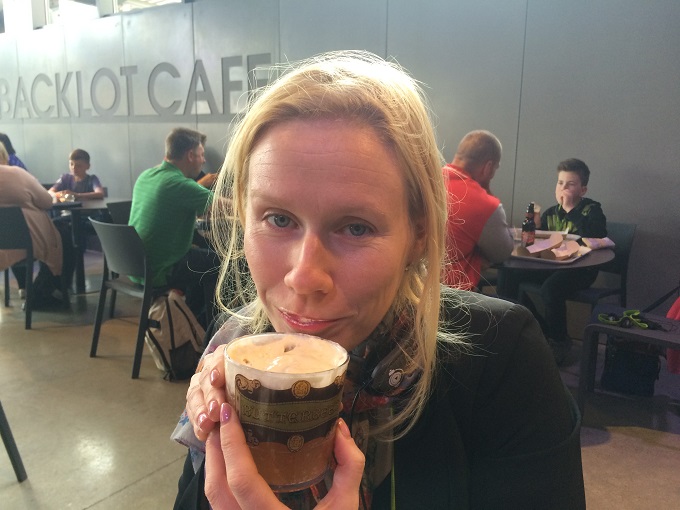 We were hungry for something to eat by the time we arrived at the cafeteria down at the backlot and took the opportunity to indulge in another 'enhanced experience': the chance to taste genuine Butterbeer. As we travelled through England, I saw many places selling recipes for 'Butterbeer' (or even a version of the drink itself), but they all looked rather dubious. I decided to wait to taste the real deal. You can buy a drink in a disposable cup, a small souvenir keepsake (like the one I have), or a larger stein. We bought two small cups to share between the four of us, and that was ample! It's very sweet, and the cream on the top is rich (almost too rich). Think of a cross between creaming soda and root beer.
The butterbeer was so rich that I ended up taking it just outside the cafeteria area to sip while we wandered past some of the larger sets, such as the purple Knight Bus, the wooden bridge (see above) and the Privet Drive house. They're all very cool!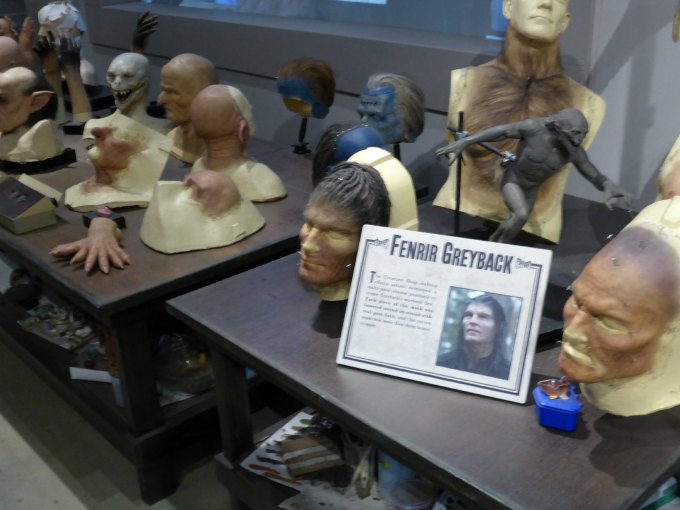 I did walk into the next area thinking, "What could possibly be next?" Turns out – a lot! This is where the creative/engineering departments really get to demonstrate their talents, showing the masks, models and electronics required to make the creatures come to life. It was interesting to watch the footage of explanations, comically aided by the presence of Warwick Davis, about how it was all done. You'll see some of this area in the video below.
And then… when I thought it was over and nothing could beat what I'd seen… you walk into this room.
Here's the 1:24 scale model of Hogwarts, used in the movies for the aerial shots around the castle and then tweaked in post-production. It was so beautiful I cried.
Final Thoughts
The tour has free Wi-Fi throughout – very smart if you have mad fans tweeting or instagramming all the way through things like "OMG THIS IS AMAZING" like I was.
The studio is in Leavesden and is reachable via public transport + a (paid) shuttle bus service, but being close to the major motorways is a big advantage for people travelling there by car. We got there very early, to ensure getting a park, but there's ample. If you do arrive early for your allocated time, the gift shop is extremely diverting – another plus is discovering props from the movies scattered throughout. For example, a bookshelf from the library is now used as a shelf to display all the Harry Potter books for sale.
Another extra we bought is the guidebook. Like many guidebooks, I think it's destined for a dusty life in a bookcase – but you never know, I could be wrong.
Do I recommend the tour? Yes. With all my heart.
Here's the video.