Atlantis the Palm is one of the most famous resorts in Dubai – or, indeed, the world. For many travellers, you need only say the name and they'll know what you're talking about: that pink hotel with the hole in the middle, built at the tip of the Palm Jumeirah, with its very own waterpark and massive indoor aquarium.
As we were coming through Dubai on our way home, we did as many Australians are opting to do these days and took the chance to stop, stay and explore. And hopefully minimalise jet lag (tip: that doesn't work). But while researching I discovered that most hotels – not just this one – are very expensive in Dubai and I nearly scrapped the whole idea. There would be five of us (mum travelled back with us after Anzac Day) and the jump from four people to five makes a big impact on what room options are available.
Then, late last year, a special room deal rate was released through Qantas and Adam and I were at the point where we said 'You know what? Let's just do it. Who knows when we'll be back'. Don't get me wrong, it was still eye-wateringly expensive, especially after the previous five weeks had been frugally budgeted down to the last dollar, but it became a shining end to the trip. The kids were beside themselves with excitement and I admit when I was freezing my butt off down at Anzac Cove I kept saying to myself, "One more day and you'll be in 35 degrees heat… one more day and you'll thaw off".
But is it everything its reputation would have us believe? I thought I'd write a bit of a review to see.
Location and Design
You know you're in luxe territory when the carpark has a row of Bentleys, Mercedes, Lamborghinis, Ferraris and Aston Martins you can walk up to and gawk over. And this is before you even get inside and you find that enormous blue and orange glass fountain in front of you. The sound of falling water hits you immediately and that theme continues all the way through, with the wavy, ripples on the plaster work, along with shell and beach-y motifs. The lobby is opulent and you walk through it to get to either the east or west wings, depending on where your room is located.
The Rooms
We were lucky – we had a city facing room (also seen in the video) and were in the east tower. The benefits of being there are is that it is closer to the Aquaventure Waterpark, The Lost Chambers, most restaurants and – I read a rumour online – the west tower's helipad can get noisy. But the west tower is home to the conference facilities, gymnasium and spa – so if that's more your thing, you'll be happy. In fact, we spent a lot of time there in the Imperial Club lounge (more on that in a minute) because the east tower's one was shut for renovations.
I didn't know it at the time, but either the room rate I got or because of the two bedroom configuration (or both) meant that we got Imperial Club access and I would recommend families investigate this option when considering staying. Here is the rundown of some of the entitlements, taken from the website:
Imperial Club lounges are accessible from 7:00am to 11:00pm daily
Breakfast is available in one of our lounges or Saffron or Kaleidoscope restaurants from 7:00am to 11:00am daily
Afternoon tea is available in one of our Imperial Club lounges from 2:30pm to 4:30pm daily
A selection of complimentary beverages and canapés are served in our lounges from 5:00pm to 7:00pm daily
Light sweet and savoury snacks are available throughout the day including juice, tea, coffee and complimentary soft drinks in our lounges
Complimentary daily access to Kids Club for children 3 – 9 years of age from 10:00am – 6:00pm (lunchtime meals are charged between 1:00pm – 2:00pm and no activities will take place during this time)
Dedicated high-speed Internet is available to Imperial Club guests complimentary
Two 30 minute Back, Neck, and Shoulder massages at ShuiQi Spa for the price of one. Available daily only between 10:00am – 3:00pm
As you can see, reading from that, as an Imperial Club guest, it is possible to eat for free for most of the day as part of your accommodation package, provided you go to the lounge or specified restaurants. And, boy, did we take that perk and run with it. Most families do, as you'll see if you go on TripAdvisor.
Some notes:
We went to the Imperial Club one day at about 2pm. By 'snacks' they really mean just that and they're isn't much substantial – until 2.30pm when the afternoon starts. That's when the sandwiches (yummy ones) get brought out – and incidentally, that's when the crowds hit. They knew this too!
Our kids adored going to Kids Club – they begged to go for a couple of hours each day (while we adults took a nap!) I can't fault it, except on the second day, – they didn't check to see if Keira had any sunscreen on when they went outside to play games and she got burned pretty bad. But they remembered to check on the first day, so perhaps make sure your child reminds the staff. If you're really worried, there's a box you can tick when admitting your child that specifies you don't want them to do outdoor activities, thus eliminating the risk altogether.
I rang about the free 30-minute massages… turns out you have to book for a full hour's massage and then pay for half of that. And I was told over the phone you could only book them up to 1pm. So I don't know if the person I talked to got it wrong, or if that's pretty slippery marketing.
The Wifi was top-notch. As you'd expect.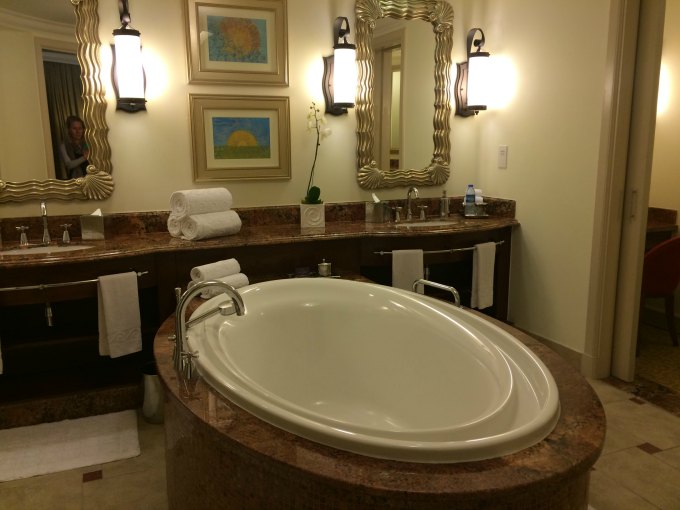 You know your bath is big when your 6ft 5in partner, who normally avoids them because he's too tall, can easily fit!
Adam does a walk through of our one-bedroom suite in the video.
The Lost Chambers
One of the best parts about the Atlantis the Palm is its aquarium – both in the hotel and The Lost Chambers. As a guest of the hotel, you get unlimited access to The Lost Chambers (same goes for the Aquventure Waterpark). While it is nice, and there is a 'touching pool' where you can hold starfish and the like, I admit I just enjoyed standing in the hotel section and watching the fish there.
One disappointment is that there is no information about the species of fish and sharks they have. While many were recognisable, that would've been a nice touch. Even just a little sign or plaque. I asked one of the door security (more on that in a bit) and he sent me down to The Lost Chambers counter to ask, but they had nothing. I realise the hotel wants people to go IN to The Lost Chambers to learn more, and that does have information. Like I said, it is a very little thing.
Aquaventure waterpark
It is one of the biggest waterparks I've ever been to – and there are plenty of slides to keep people of all ages entertained. The teenage and adult market, I have to say, are particularly well catered for. The newest attraction is the Tower of Poseidon (seen below) and I have to say I enjoyed that the most – although it is very high and you have to climb many, many steps to get up to the rides and I didn't see anything in the way of accessibility points for people who might need them. If you see the video, you'll see that the Tower of Neptune does have a 'travelator' you can sit on that takes you halfway up. The Tower of Poseidon is tagged as the 'family friendly' tower, although there are some hair-raising rides, including Poseidon's Revenge, which was shut while we were visiting (that's the first scariest ride the guard is referring to in the video).
A minor quibble is the lack of specific signage around the park – rides are pointed to in a vague manner, and sometimes you'll head off in that direction to find yourself needing to double back because you took a wrong turn. This is both while you're on the land and trying to navigate yourself in the tidal pools. It became pretty apparent because Riley got separated from us and I couldn't find him for about 20 minutes. All the while, I kept my eye out for him, but it was hard and if they have a 'lost child' meeting point, I didn't see it.
Hotel etiquette and staff
Dubai is a conservative country and I hoped I had packed enough to be decently covered, particularly while at the Waterpark. Turns out I needn't have worried too much on that count – women and men wore all sorts of swimwear, from coveralls to skimpy bikinis. Toddler girls were running around with only their bottoms on and that was fine.
However, once you head back to the hotel, it becomes a different story. Security are stationed at access point to make sure that only hotel guests are allowed through (otherwise it would be a real trample of people), and also to ensure they are appropriately dressed. As it turned out, I worried too much about what I was wearing and not enough about the kids. On one occasion, Riley was stopped going out because he was bare-chested (his rashy shirt was still wet) and on another Keira was coming in just wearing her bathers. Each time I was so embarrassed – of course, I thought. The rules apply just as much to them.
Tip: don't think wrapping a pool towel around your child will be enough – they are frowned on as well. Although it depends on the member of staff. Some turned a blind eye if you were dashing to the elevators; others didn't. To be safe, always throw in a spare T-shirt or sarong.
The staff were wonderful. I'd like to give a special shout out to the lifeguards, both at the hotel pool and the Waterpark. They were so friendly and helpful. Honest, too, because I'm a bit wary about water rides (if they're in the dark, my inner ear/balance plays up), and if you ask them if a ride is scary or rough, they'll tell you. Of course, what is 'scary' is subjective! As you'll see in the video, where Keira conquers the second scariest ride at Aquaventure – the Leap of Faith!
Final thoughts
There was one disappointing part to the stay, and that was before we even got to the hotel. We were told upon arriving at the airport to go to the Atlantis the Palm counter, just beyond the baggage carousel, where we would be shown to our transfer car. As our plane was late, and the baggage took forever to come out, we didn't actually get to the counter to about 11pm. This, on the day after Anzac Day. I was tired. And perhaps a little out of sorts.
Anyway, I went up to the attendant and said hello and that I was a guest of the hotel and she said hello… and the next words out of her mouth were, "Would you like a Atlantis the Palm prepaid debit card, entitling you to discounts at the hotel?" I realise upselling is part of the hospitality trade and this hotel is no exception to using somewhat… pushy measures, but I honestly didn't expect it to be literally the first interaction I would have with a representative of the place.
I blinked and said, "Um, what?"
(Bordering on rude, I'm sure, and I apologise for that.)
She repeated her offer and I declined. "I just want to get to the hotel please."
And then we were shown on our way.
If the same offer had been made upon check in, that would've been all fine (and I'd be more inclined to consider it), but not at the airport. But that's a minor detail.
They more than made up for it by presenting Keira with a birthday cake on our final evening – a delicious chocolate mousse cake. She was delighted.
I had a quiet word with Adam afterwards. "Did you organise that?"
"No, did you?"
"No."
Very smooth, Atlantis the Palm. Five stars.
On the whole, it was terrific. Would we go back? Oh, yes. Look for yourself – wouldn't you?
A short video about Atlantis the Palm: