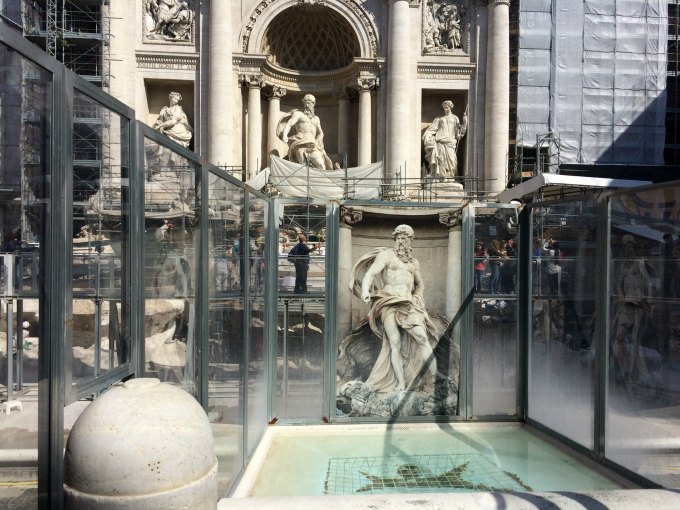 I admit to feeling a slight… ambivalence… as to what laid in store for us in Rome. It's been on my Living List since studying the Judio-Claudian emperors in ancient history and watching old movies a child, all those 'sandal and toga' epics, full of fighting and chariot races. And, of course, I wanted to eat the food too. However, as our trip approached, and people found out it was one of our destinations, I was struck by an almost polemic response: in short, people either loved it or hated it.
I filed that bit of data away in the hope of landing with an open mind and minimised expectations. It's as well they were, at least on our first day. We arrived at the Trevi Fountain… and it was shut for renovations.
Riley's face fell. "I really wanted to see it," he said.
I tried to cheer him up by giving him a coin he could toss into the temporary 'mini' fountain you can see above. The Pantheon is just down the road, I said. I hear that's wonderful – come on, let's check it out.
Well, it might've been just down the road, but the amount of hawkers were incredible, the worst we'd yet encountered. All kinds of selfie sticks, toys, roses and the like were shoved in our faces to buy; I was told you had to be very vigilant in certain areas against pickpockets. We ran the gauntlet to arrive at the Pantheon where, finally, I started to warm to the city. I began to understand its lovers.
Look at this building, first constructed during that very period I studied in high school, in continuous use for almost two thousand years, with still the largest un-reinforced concrete dome in the world.
And what a dome, with the oculus, the eye, letting in such a force and intensity of light. When you reflect on how long it's been there, what has transpired both inside and on the surrounding streets, you are reminded on how small you are; you're aware of scale.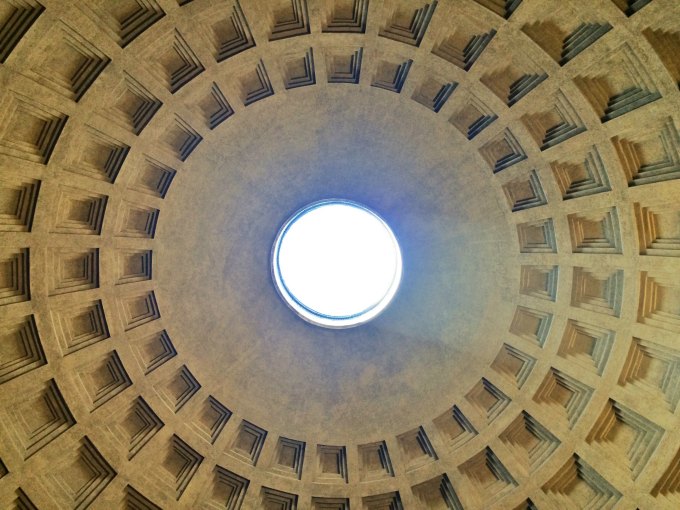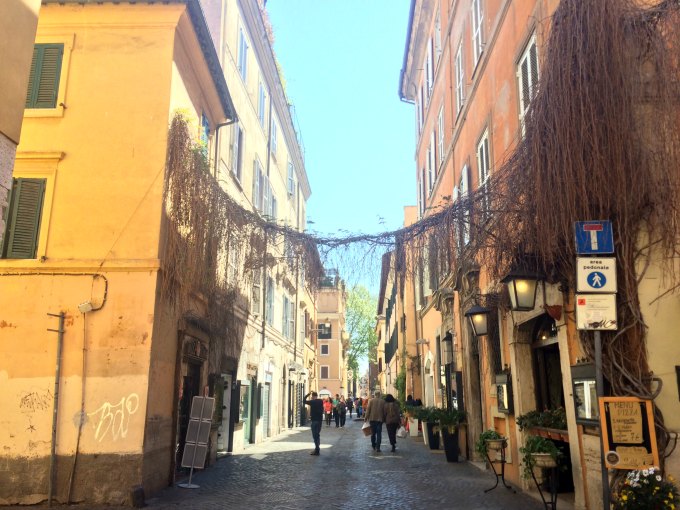 It was better to get out of the tourist 'hot zones' and an example of a great 'escape' location is the Trastevere district. It is on the western side of the Tiber river and is reputed for being a centre of academia and art, as well as retaining a lot of its medievalness. While I can't say it was without hawkers, you were able to wander the streets freer from hassle.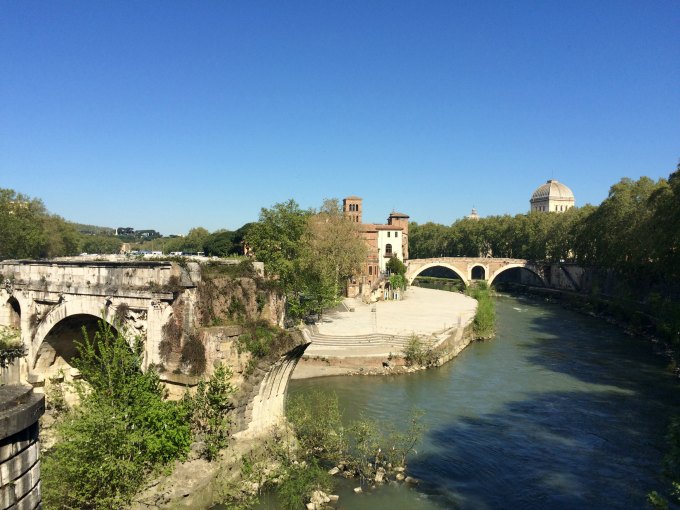 This was taken on our last day and I'm pleased to be able to say that our weather was perfect. While we were on a tour down to Pompeii (more on that in another post), our tour guides took the time to explain a lot of the history of Rome, right down to its origins. There are so many myths surrounding the age of the city, who founded it and more, but one of the stories we were told, was that a settlement was deemed important to defend this island – Tiber Island, because it is the best point for an army to hold to cross. There are no other islands on the river.
After visiting the river, I can see why that would be a likely reason to settle close to this position. It's one of those things you have no idea about until you're there, but this is fast and powerful. You'd want to take care when crossing. You can see the ruin of the Pons Cestius bridge in the shot as well.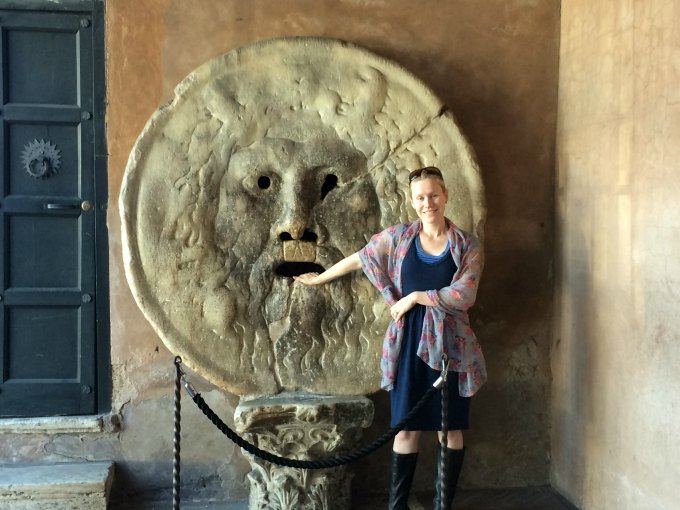 We got to a stage where Adam and the kids would say to me, "What are we doing today? Don't tell us we're going to see another church!"
I usually responded with, "Yes! It's another church!" to the sound of much groaning. However, not on the day we went to the Santa Maria in Cosmedin, home of the famed Mouth of Truth. In fact, the kids had been begging for several days to go get a photo with their hand in the mouth, such as I'm doing here. They loved the legend that says that if you have your hand in the mouth and speak a lie, the mouth will bite your hand off. Not that the kids believed it… well, not much. Riley did ask nervously on several occasions, "Mum, should I lie just to check if it's true?"
I should've just assured him that there really wouldn't be enough time to see – thanks to celebrity visitors over the years such as Audrey Hepburn and Brigitte Bardot, lines of people queue up for a photo and you're hurried on quick smart (with the request for a donation on the way).
While I started to 'get' Rome while visiting the Pantheon, I didn't start really enjoying it until we visited the Villa Borghese gardens two days later. From the lovely spring smells, verdant hills, ancient walls overrun with ivy, to the special dog area where they could be let off the leash to run around, it was wilder than any well-kept English equivalent. More lived-in, where all mixes of people could interact. It wasn't always pleasant (watching a man drop his pants by the side of the path poo in public will always capture your attention!), but it was always interesting.
*Next installment to come on Thursday.
More Rome highlights: