Preparing for our Melbourne Writers Festival seminar, I'm reading Reservoir Dad by Clint Greagen. It is engaging, thoughtful and oh-ever-so cheeky, very much like his award-winning blog. Another MWF guest, Dave Eggers, has a new release Your Fathers, Where Are They? And the Prophets, Do They Live Forever and I look forward getting stuck in to that. The Best Australian Essays 2012 by Ramona Koval is one of those 'I saw it on the library shelf and grabbed it because I hadn't seen it on the shelf before' finds. I do enjoy reading the stories/essays/poems books in the BAE series, and try to get to them all – even if it takes a few years! Standouts for me were John Bryson's 'The Murder of Azaria' and Anna Krien's 'Killing'.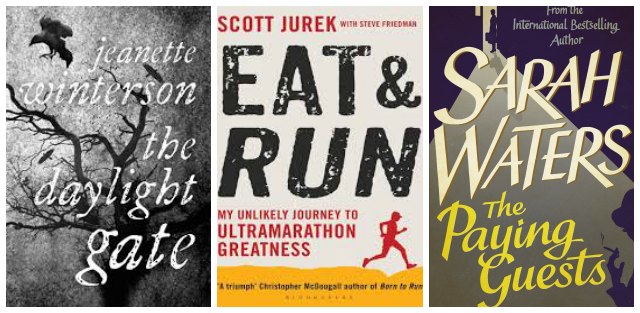 Jeanette Winterson's The Daylight Gate is another of those lottery library finds. It's about witches in early 17th century England, partially based on actual witch trials in Lancashire at the time, and its the blend of history with imagination that always draws me in to such tales. Winterson is a writer (although I'd put Mantel and Atwood in the same category) who seems to do it with ease!
I've already mentioned Scott Jurek's Eat and Run – My Unlikely Journey to Ultramarathon Greatness and recommend it to anyone who has an interest in either running or plant-based (vegan) eating. Or both, of course! I enjoyed the accounts of his major races and victories, as well as his tough childhood, but I felt that it glazed over some aspects: the races he pulled out of, for example, and what those particular experiences taught him. It's a minor thing, though. And I'm planning on trying out some his recipes!
Last is The Paying Guests, Sarah Waters' new release. Really new – it's not out until the end of the month, although you can pre-order it via the link. I'm about to start it for my next review for The Big Issue.
What are you reading this month?
Note: affiliate links. Also, postage is free for orders made up until midnight Sunday the 17th of August (wherever you are in Australia). Use the the promotion code KIDS.